WEEKLY PROGRAMS
Truth Seekers
- Sunday 9:30-11
Team Kids
- Tuesday 5:30-6:30
SUMMER EVENTS
VBS
- June 19-23rd
FAMILY EVENTS
Located on Foster
Truth Seekers
Faith Community Chapel Children's Church
SUNDAY 9:30-11
For ages kindergarten -5th grade all are invited to joins as we seek out the truths the Bible provides us. We meet together during Faith Community Chapel on Kinser each Sunday from 9:30-11am. This is a great time to explore God's word together as kids, have fun and just be kids.
TEAM KIDS
K-5th grade Bible Study
Tuesdays 5:30-6:30
Team Kids meets Tuesdays at the Kinser Chapel. During our time together we dive deeper into our relationship with Jesus, giving us tools to live out our lives at kids who follow after Jesus.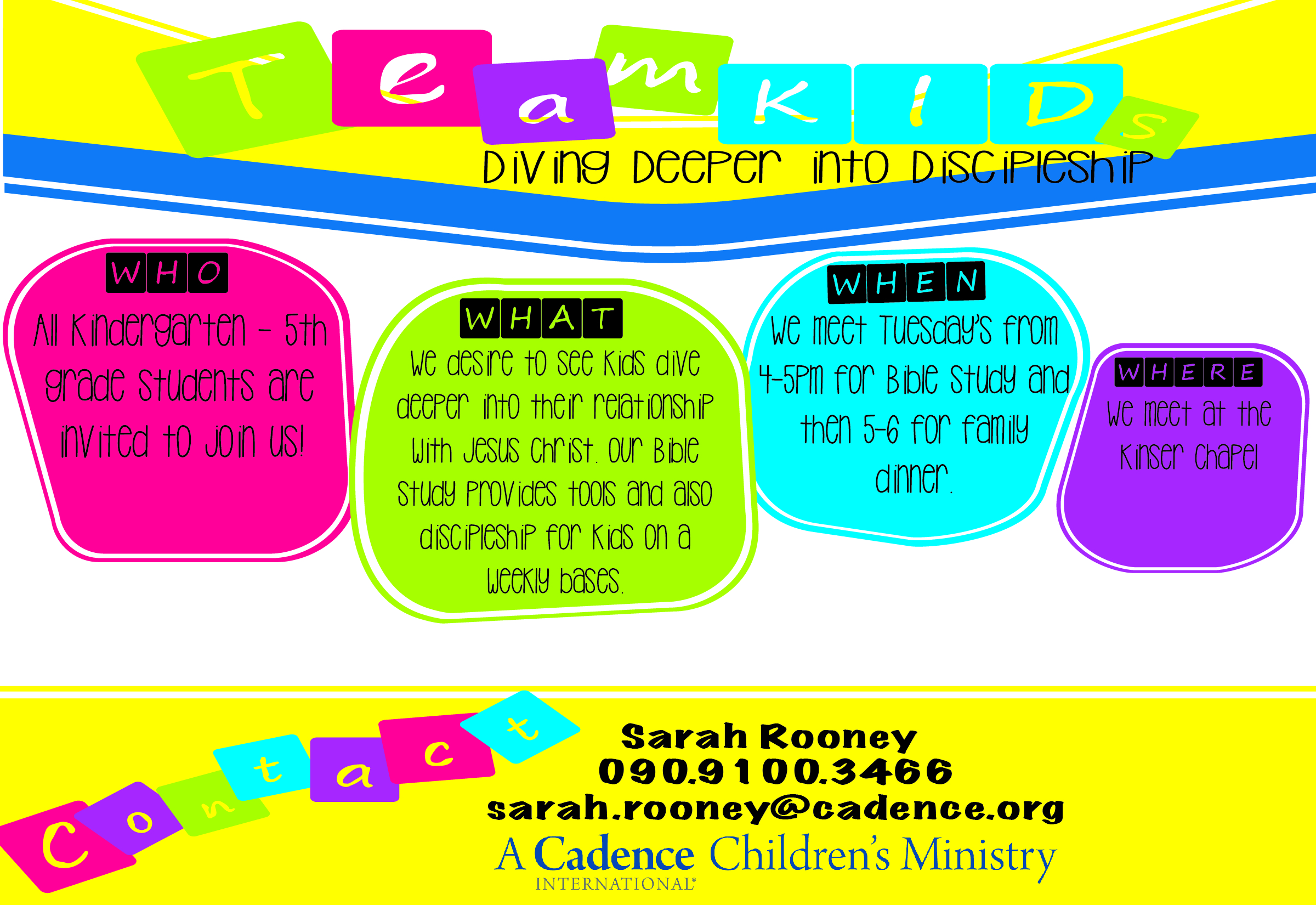 Dinner is provided afterwards for kids and their families. All are welcome to join us for dinner.
VBS
A WORLD WHERE CURIOUS KIDS BECOME HANDS-ON INVENTORS WHO DISCOVER THEY'RE LOVING CRAFTED BY GOD.
WHO: any kid 4 years of age to 5TH GRADE ARE WELCOME TO JOIN US FOR VBS THIS YEAR.
WHEN: 900-1200 - June 19th -23rd
WHERE: WE WILL BE HAVING VBS AT THE CHAPEL ON CAMP KINSER
FAMILY SUMMER CALENDAR
SUMMER IS ALREADY HERE AND WE WANT TO MAKE SURE ALL OF YOU CARE KEPT UP TO DATE AND NOT MISS ANYTHING WE ARE DOING THIS SUMMER. DOWNLOAD A SUMMER CALENDAR JOIN US FOR SOME EVENTS.
SUNDAY AFTERNOON 3PM TO 5PM
Located on Camp Foster AWANA is a nondenominational Bible centered youth organization whose goal is to reach boys and girls with the Gospel of Christ, and train them to serve Him.
Awana is for children ages 3 years through 6th grade. We meet on Sunday afternoons, excluding summer break and holiday weeks, from 3-5pm at the Foster Chapel Center.